Hydro Generation or the production of energy while the boat is under sail is a feature available on all OCEANVOLT motors.
The way it works
It is triggered by pressing a button for five seconds on the screen of the control panel.
The system software will communicate with the BMS to check the level of charge of the batteries and authorize or not the beginning of energy production to prevent any overcharge.
In hydro generation mode, the control screen will immediately indicate the energy produced, the number of revolutions per minute of the propeller and the time it will take to recharge the batteries to 100% .
For a foldable propeller, the motor will start up slowly to open the propeller, then the centrifugal force and the monitoring of the motor controller will keep the propeller open.
The motor controller will constantly calculate the resistance (depending on the speed of the boat) and the revolutions per minute of the propeller in order to prevent it from closing.
The hydro generation will stop when the batteries are charged or if the speed of the boat is not enough.
It is therefore important to have a foldable propeller whose weight distribution is optimised for it to remain open and so that it can close to stop the production of energy.
The systems that we recommend work perfectly with GORI 2 or 3 blades propellers. For more information about the other options, thank you for contacting us.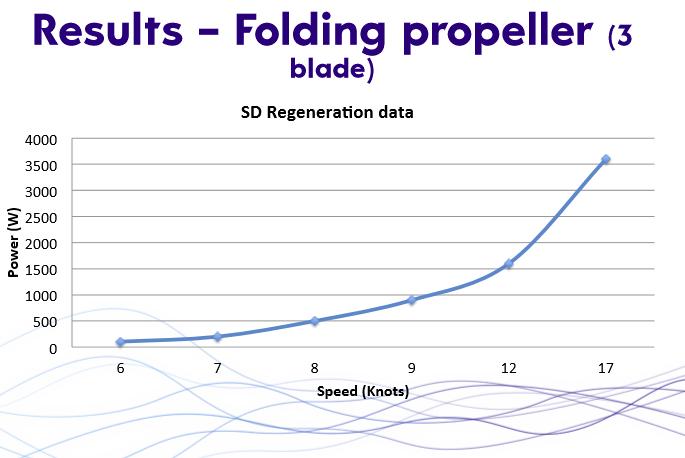 OCEANVOLT SERVOPROP
We recommend the brand OCEANVOLT. It has been made by experts in the field that excel in manufacturing reliable electric motors and offers the best hydro-generator on the market.
The SERVOPROP OCEANVOLT technology is patented. It combines a high performance electric motor with a variable pitch blade feathering propeller.
In conclusion, the software constantly adjusts the pitch of the propeller to the speed of the boat in order to always have the best pitch possible.
The pitch of a fixed propeller is optimum at a certain speed, if you go faster or slower than that, you lose a significant part of its efficiency.
In a neutral position, the SERVOPROP does not generate almost any drag.
The optimum pitch of the propeller allows us to gain 30% of the power in forward propulsion mode, 100% in reverse and 300% in hydro generation mode.