Offshore racing or regatta racing is an area of excellence where weight is a constant concern, just as it is the reliability of the systems to be used in extreme conditions : vibrations due to speed, humidity, variations in temperature.
The solutions we offer have been widely tested on electrically powered racing yachts, during the Vendée Globe and the Route du Rhum.
The advantages of our solution are multiple:
Weight loss: Up to 20% !! when compared to a Diesel equivalent
Unlimited energy thanks to hydro generation. It takes less than 1 hour at 15 kts to cover the daily consumption of an IMOCA 60
Reliability. Electric motors are much more resistant than diesel motors in extreme conditions
A simple button ignites the hydro generation
A solution that is in line with the values conveyed by ocean racing
Possibility of using a hybrid motor for sailboat
Example of the configuration of an electric motor for an IMOCA 60 sailboat :
Length : 18,23
Displacement : 9 tons
Engine : SD 15 (weight: 65 kgs)
NMC Batteries : 17,1 KWH (weight: 97 kgs)
Total weight = 162 kgs
Equivalent weight of a Diesel : 250 Kgs with exhaust system and diesel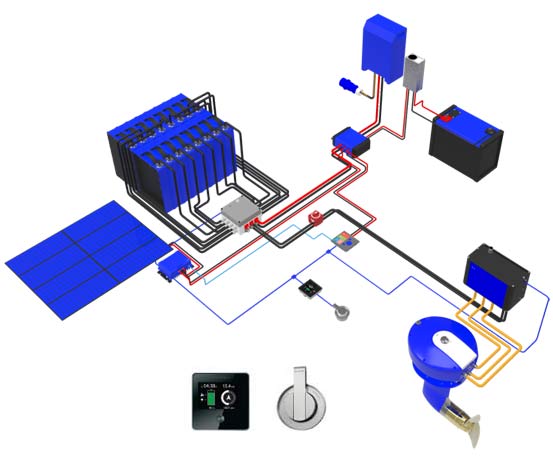 Technological advances in terms of solar panels on boats make them almost essential nowadays, whether it is to maintain the charge of the batteries during absences, without having to moor the boat to the dock, or to spread the ever-increasing consumption on board and supply power to the batteries of the electric motor propulsion.
They are the ideal complement for hydro generation..
For a racing sailboat, flexible solar panels that you can walk on, or even foldable panels, will contribute very effectively to your autonomy.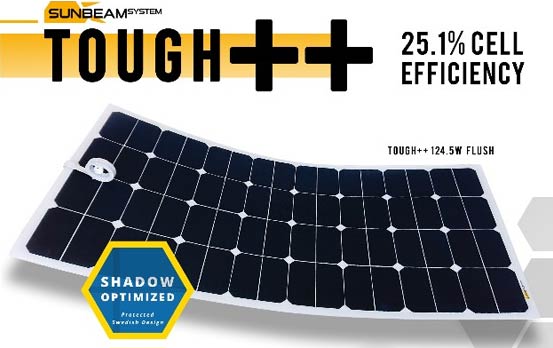 We offer SUNBEAM products
, a Swedish company that
produces the strongest and most efficient flexible panels
on the market
25% high efficiency cells and Rear Contact Technology
Anti-slip coating trampling resistant
Optimized coating for shaded areas
5-year warranty
Learn more :
 How to choose your solar panels ?
"Using an event like the Vendée Globe to promote something that is so important to me was really motivating. I wanted to show people that alternative energy can work perfectly and this was a great opportunity."
Conrad Colman, Vendée Globe 2016 Finalist
on 100% Natural Energy