Electric motorization offers many advantages to charter companies.
It makes us stand out from the competition by offering passengers the pleasure of sailing with less noise and no smell.
Reduced maintenance and operating costs (no overhaul, no oil change, reduced energy consumption).
Improved reliability reducing the cost of boat immobilisation.
A remote assistance platform that enables you to solve problems on your own.
The capacity of the batteries recharged by hydro generation and the generator set improves comfort on board (diving group, air conditioning or heating, refrigeration, induction plates, sound system, etc.)
Access to protected or regulated natural areas.
Access to additional public or private funding.
With engines from 3 kW to 40 kW (double for a Catamaran), our engines can be adapted to most projects.
We recommend a hybrid solution with a power generator to supply for your needs when there are prolonged absences of wind.
Example of configuration
Catamaran Revolt
Boyard Croisières
Fouras 17450
Type de boat : SCHIONNING ARROW 15000
Lenght : 14,95 m – Width : 8 m
Weight : 8,5 tonnes
Motor installed : 2 ACX 10 KW in shaft line
LIFEPO 14 KWH battery pack
combined with 2 Fischer Panda 10 kW generators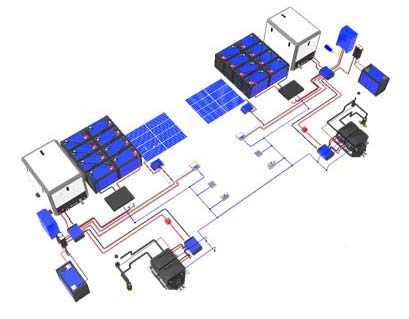 Technological advances in terms of solar panels on boats make them almost essential nowadays, whether it is to maintain the charge of the batteries when not in use, without having to moor the boat at the dock, to spread the ever-increasing consumption on board or supply power to the electric motor propulsion batteries.
Catamaran charters that are more than 50 feet have good surfaces for the installation of flexible solar panels on the roof and on the Bimini and fixed panels on the davit. We quickly reach more than 1.5 kWp of power.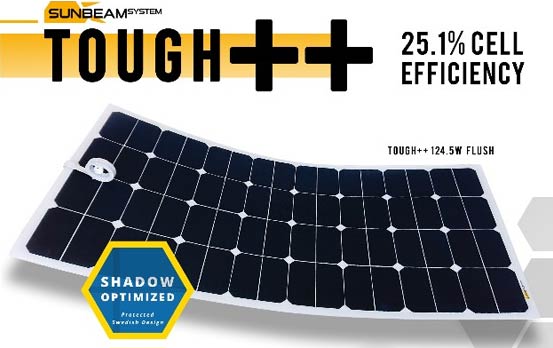 We offer SUNBEAM products
, a Swedish company that
produces the strongest and most efficient flexible panels
on the market
25% high efficiency cells and Rear Contact Technology
Anti-slip coating trampling resistant
Optimized coating for shaded areas
5-year warranty
Learn more :
 How to choose your solar panels ?
"Caroline and Frédéric chose an electric motor for obvious ecological reasons. It was just obvious for these two lovers of the sea who want to preserve their beautiful region as much as possible from pollution."
Caroline and Frédéric, owners of the catamaran Rêvolt'