Navigating on a boat is much more than a means of transport, it is an invitation to travel and to discover natural and wild environments. It is contradictory to indulge in this pleasure with boats whose environmental impact is far from being neutral while suffering the inconvenience of a loud and smelly engine.
Sailing on an electric motor boat is akin to the pleasure of sailing. You can take advantage of your outings to chat with your friends without having to scream in order to be heard and the absence of smell will prevent a lot of sea sickness. The electric motor is perfectly suited to heavy displacement vessels or semi planing hulls. It is also possible to opt for a hybrid solution: an electric motor to exit and enter the port, access to mooring place and a thermal engine when you need to sail at high speed at sea.
Configuration example :
POGO LOXO 2
Manufacturer : POGO Structures
Motor : 2 Oceanvolt SD 15 motors
Battery pack : 53.2 kWh NMC batteries
Top speed : 15 knots
Autonomy at 10 knots = 40 miles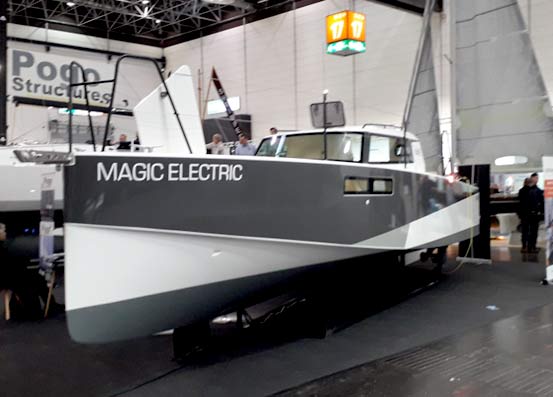 Technological advances in terms of solar panels on boats make them almost essential nowadays, whether it is to maintain the charge of the batteries when not in use, without having to moor the boat at the dock, to spread the ever-increasing consumption on board or supply power to the electric motor propulsion batteries.
For a motor boat where space is limited, flexible solar panels that can be walked on, or even foldable ones, will contribute very effectively to your autonomy.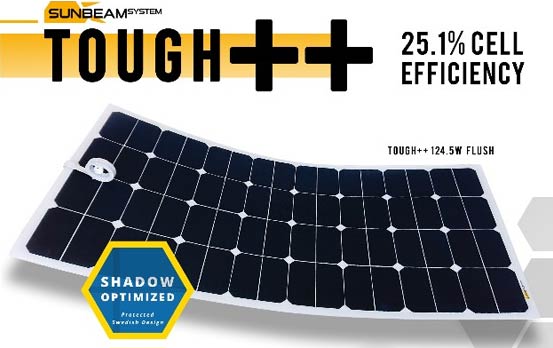 We offer SUNBEAM products
, a Swedish company that
produces the strongest and most efficient flexible panels
on the market
25% high efficiency cells and Rear Contact Technology
Anti-slip coating trampling resistant
Optimized coating for shaded areas
5-year warranty
Learn more :
 How to choose your solar panels ?
"While discussing the plans with the guys at the R.K Marine shipyard, the idea of the possibility of replacing the old diesel engine with an electric one came up, which would be a good way to sail in peace and quiet."
Owner of The Gull